Nerdy Bot Scholarship Competition – Results Announcement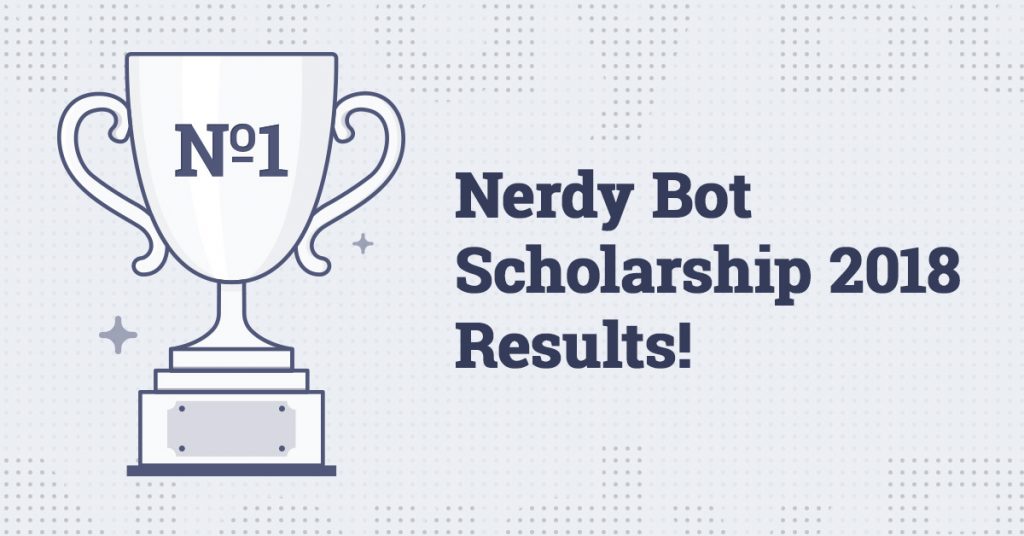 The mission of Nerdify has always been helping students to achieve more during their academic years at College or University. However, apart from helping students from all over the world, Nerdify is pioneering a new way to advance education through technology (Nerdy Bot Scholarship Competition is a great example of that).
On September 6th, 2016 Nerdify has launched one of the first AI educational bot for Facebook Messenger on ProductHunt – NerdyBot. The launch was a massive success – NerdyBot became a product of the year and won a Golden Kitty from ProductHunt.
We've decided to expand our success with Nerdybot and, on January 1st, 2018, launched a Nerdybot Scholarship – a worldwide competition, where any student could submit a 500-word essay on the following topic – "How can Artificial Intelligence help you with your studies?"
Students had 2 months to submit their essays (last day was on February 28th, 2018) and top 3 essays would get the following rewards – $1000, $600, $400 respectively.
We've been amazed by the number of essays we've got from you, guys! More than 1000 submissions from all over the world (and we mean literally from all over the world, just check out the countries we've had submissions from USA, Canada, Brazil, UK, Australia, South Korea, Spain, France, Bulgaria, Hungary, Uganda, Nigeria, India, Philippines, Romania, Ghana, Barbados, Netherlands, Vietnam)
We are so very grateful to each and every one of you. Seeing that level of participation, is really what keeps Nerdify team pushing the boundaries of education 🙂
Today we are going to announce the winners of the Nerdy Bot Scholarship Competition! 🙂
And the winners are……
First Place: Dora M. Donnelly (USA).
Second Place: Marisa Araujo Goncalves (Brazil).
Third Place: Zeeshan Azhar Sankaran (India).
We would like to congratulate our winners that have done an amazing job and we would also like to share with you our winner's essay: "Nerdy Bot Scholarship Essay by Dora M. Donnelly"
A few words about our winner: Dora is a Bachelor student in US pursuing a Nursing degree. We've conducted a very short interview with the winner:
Dora, tell us 2-3 interesting facts about yourself?
I am an avid traveler – love visiting other countries and studying different cultures

I love technology – it's amazing to me, how it keeps on changing the lives of ordinary people

I am a foodie, so I love cooking and trying different cuisines 🙂
What is your dream?
My dream is to become a Nurse and later on open up my own practice. I really love helping other people, this is what makes me wake up every morning 🙂
Where will you spend $1000 scholarship?
I strongly believe that education is an essential part of a one's personal development. Therefore I will allocate my prize money towards my sister's education. She is only 12 now, but it's important to start saving up as early as possible, since education is very expensive in the US (I am looking forward to see how tech companies will disrupt the conventional education industry by offering affordable, good quality education to the mass market).
We were very impressed by Dora, such an inspiring student 🙂
We would like to congratulate all participants and thank them for taking part in our Nerdy Bot Scholarship competition. All winners should receive their winnings within the next 5 business days.
Follow us on Twitter and Facebook and stay tuned! There will be more challenges and competitions that you can participate in, later this year!