4 Unconventional Ideas to Make Your Weekend at Home Enjoyable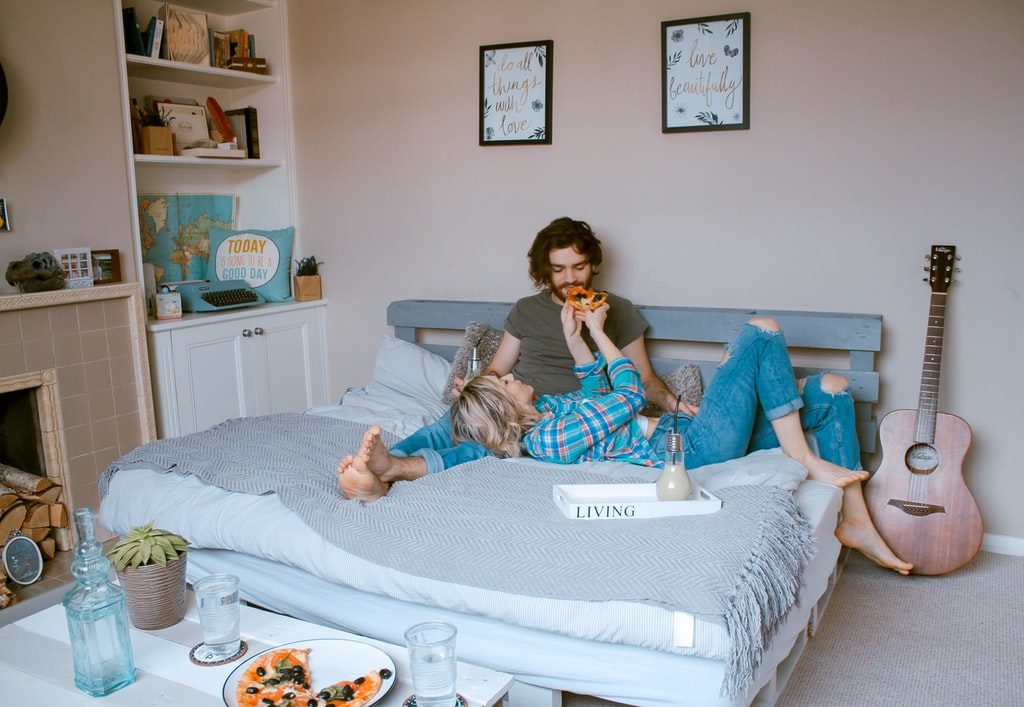 As we all strive through the social distancing that is caused by a stay at home times, there are still ways to make this experience much more enjoyable. Of course, spending more than one week at home is not the same as dreaming about a weekend because there is no chance to visit a movie theater or gather together with a group of friends after the studies or a hard day at work. Regardless if you are stuck on your own or have the luck to be with a family, things can quickly get boring and even depressing. Thankfully, there are ways to have some fun even when stuck at home!
Play Trivia Games. It is good when you can play some board games with your best friends, yet staying home on your own is a different matter. When you feel like a trivia night, meet Sporcle, the largest online trivia community where you can compete with people from all over the world. Choose any topic from Sports, Music, History to Cars, Politics or TV shows and have some quality fun. It is not only free, but there are also special campaigns where you can win digital prizes for popular gaming websites.
Plant Some Seeds. Spring is the time of the year when your mind and body ask you to take a walk outside or run through the park wearing your shiny new sneakers. It is nature's call! Now take your time to plant some seeds and grow your own little garden. Even if you have never done something like that before, there are many Youtube guides that will help you start something totally new, an experience that can last for a day or even continue for months as you watch the seeds grow!
Participate in Online Volunteering. There are many communities that need your support these days. Join the psychological support club online or spend your time teaching the children simple science tricks. We may not be able to provide due physical presence support and care, yet being there by email, phone or video messages is still possible. You can join the Red Cross and help with the alerts or assist the veterans – there are many ways to help!
Start Learning a New Language. No, it is not always difficult to learn a foreign language, especially if you are not forced to do so. The secret is that learning something at school is always related to grades and a limited amount of time while mastering new words and grammar on your own frees your mind. Check out the great free language learning applications like DuoLingo or HelloTalk where you can schedule your own lessons and study as much as you can. HelloTalk app, in particular, allows you to talk with the natives and learn just as if you visit a totally new country in person!
Now as you have these amazing ideas, take your time to have some fun and enjoy the experience!
Need help with your tasks?
Connect to an expert Personal Nerd!
find nerd
Related posts you may like
December 29, 2017

It's been a hell of a year for Nerdify. We've helped a record number of students this year and we've doubled in size (hooray!). But the New Year is on the horizon… Which brings us to the question of how we can celebrate it? Certainly, most of us will be celebrating it with our friends and family, but what if you want to do something special this year?
We've created a list of five creative ways how you can celebrate this New Year, check it out, maybe there's something in this list that you may wanna try 😉

1. Visit real Santa

That means going to Finland. Yes, that's not exactly a half an hour ride from your house, but bear with me, there are lots of awesome things you can do once you get there.

Finland has a fantastic national travel-website that has already collected all the main adventures Finland is famous about:

* You can go on a husky ride through the snowy forest (one of our Nerds actually did that – said it's super cold, so make sure you bring warm clothes and some vodka with you. You gonna need it).
* You can check out beautiful auroras in the night sky (those are free of charge, thank you solar winds, yay!)
* You can go Gold panning (this is a perfect activity for kids – they get to collect their own GOLD, how cool is that?!).
* Cruise on an Icebreaker (and see real polar bears on little icebergs, oh… so cute 🙂
* And, obviously – see the real Santa Claus (that's what New Year is all about, right?)
And much more actually. In Finland, you truly feel special during the New Year. You indeed think that miracles can happen during this special night, it's absolutely magical.

2. Celebrate New Year following traditions from another country.

Just a few examples for you, of the crazy shenanigans people do across the world during the New Years Eve:

* In Burma people splash buckets of water on each other to "start New Year with a clean soul". They certainly can do that in Burma, because it is quite hot during the New Year. I suspect that wouldn't really work somewhere in Canada, now would it? 😉
* In Russia, people write their wishes on a piece of paper, then set it on fire in a glass. When only ashes remain – they pour champagne into the glass and drink it "bottoms up" before midnight. That way your wish will come true in the following year. For additional tips on how to "Party Like a Russian" we suggest you check out the Robbie Williams video-guide.
* In Italy, Argentina and Bolivia it is a common tradition to wear colorful underwear. It is believed that it will bring luck, love and prosperity to the one who's wearing either red, pink or yellow underwear 🙂 What can we say, those folks are definitely not boring 🙂
* In South Africa and Peru, people tend to get more violent. In Johannesburg, South Africa, it is common to throw old appliances out of the window. That way locals "step into the new year leaving old things behind". While in Peru it is common to have a fist fight with a person you have a grudge on. That way you can "wipe the slate clean" before the New Year.

Just make sure none of these local traditions get you in jail. As far as we can tell, no country has a tradition celebrating New Year's Eve in jail 🙂

3. Be real Santa Claus.

Why not create some miracles yourself? You can be the master of the night by putting on a Santa Claus costume and grabbing a red bag full of goodies. Better still – gather a group of like-minded crazy people who will do a flash mob of Santas in the center of the city. You can build a huge snowman and give away presents and sweets to passers-by or baking a cookie that's gonna crush the Guinness world record. Let your imagination go wild!

4. Outdoors

Being outdoors on the New Year's Eve is also exciting. Imagine skiing in the mountains during the night.. Isn't it magical? Alternatively, you can go full bananas and go camping in the forest. Greeting the New Year under the stars with a glass of champagne and a loved one. Romantic… but also quite chilly so make sure you have a heating pad with you or something. Getting a cold is not part of the plan here!

5. Do some charity-work

New Year is also a great time to think about those who are less fortunate than we are. What kind of a miracle would it be, if you could dress as a Santa and visit a local orphanage and give presents or sweets to the ones in need. Donate to the homeless shelter. Or visit a local animal shelter and adopt a puppy.

---

Remember, New Year is the time of miracles. It's the only time when the whole world is celebrating, so why not do something special this time? 😉

Nerdify will be back with you next year to continue doing what it does best – helping students achieve their academic goals all across the world. Merry Christmas and a Happy New year to you!

December 4, 2018

Hey there! What a lovely day to enjoy new Nerdify reviews post. Ready to unleash your bad habits and fight them?

It's already December and soon enough you gonna think of new resolutions to make. College is a challenging time, which always comes with risks of really bad academic troubles that we all seem to go through from time to time. There are new challenges, unknown environment, too much studying, and the joy of youth kicking in, so it is only natural that you try to cut the corners and find an easy way out! Nevertheless, it is important to take care of your college life and do your best to ditch the bad academic habits.

The Art of Procrastination

Procrastination problem is what most students face on a daily basis as soon as the battle of deadlines versus the fun times starts! There is a movie that you definitely want to see or a party that you want to join early to meet your best friend or even a blog post that you want to read. This is when procrastination gets in the way. Trust us, we all have been there and it is only natural to put off some difficult tasks and think that you can do it later. The best way to ditch this bad habit is writing down a list of the "urgent" and "not so urgent" tasks in two columns. This way you can get more focused at tasks at hand and organize your time in a more efficient way!

2. Junk Food Problem

While it is tasty, quick, and you do not have to spend way too much time cooking, junk food can become a bad academic habit that comes up as soon as you start the college and try to get through the myriad of tasks. You run around, you catch a bite here and there, you talk to your friends as you eat, run around in the park, still chewing something. Sounds familiar? Add the late night pizza and Chinese takeouts to the list and you risk making all the healthcare specialists sad and angry! If there is a kitchen in your college room, start cooking your own simple food and check with your college friends to share the tips and get the best recipes. Moreover, stick to more accurate dining times and make sure that a time when you eat something is not in the middle of another task!

3. Using "you know", "like" and "totally" When You Speak.

Now that you are about to become a skilled professional, your task is to work at the social skills and strive for academic success. You have to learn how to speak in a professional way and get rid of all the rubbish words and slang. We all get this "you know" and "like" bugs in our sentences, yet getting rid of these words can be really helpful. Just give it a bit more thought and learn to breathe! They call them "the filler words" because they are used to fill the space when you do not know what to say or when your lack of confidence comes through. Instead of using all these words, try to think and learn to talk at a slower pace, allowing yourself to focus on a subject and remember all the important information. This way the people will listen to you and know that you are experienced and have sufficient knowledge.

4. Ignoring College Group Projects

While far not everyone is guilty of this bad academic habit, it still exists and can be damaging to your college success, future resume, and a list of strong social skills that you definitely should have. Think of the group work where some people seem to do it all for the others while you just sit and watch. Do not be like one of such students and take an active role! Show some good work ethics and find a golden medium between a laid-back attitude and being a control freak. Be open to suggestions, yet learn to speak your opinion. It is a group project after all and everyone should do their best to be responsible and contribute!

5. The King of the Party

Sometimes it seems that it is not possible to survive through college without partying! While some of this is true since you do not have to turn nerdy and geeky being stuck in a college room with the books all the time, you have to remember of all the important deadlines and organize your parties (and the ones you want to join) wisely, so it does not affect your academic schedule and the other commitments. Make a party something to look forward to with no dark shadows from the tasks you have not finished yet!  Even if you are a king of the party and like to have fun, remember that you can do both, if you manage your time and the plans!

6. You Bite More Than You Can Swallow: Doing Too Much at Once!

It is no wonder that an endless list of homework to do, confusing classes, and all the extra-curricular activities can make things a little bit too difficult! As a result, you may get a bad habit of trying to do it all at once. You start multi-tasking and aim for finishing several tasks at the same time. You may be a member of several clubs and you try to join two or more group projects, yet you start noticing that you are stressed out and anxious. It is a normal reaction of your mind and body to biting more than you can swallow. The solution is to take one step at a time and form a daily timetable to make sure that you give your best to each task. When you cannot do your best in a club or fail your friends by not being there, thinking of a next activity, it is never any good!

7. Bad Sleeping Habits

This is definitely one of the worst habits a college student may get! It is also one of the most challenging problems to get rid of! As your sleeping habits get worse and start to affect your grades and health in general, there are several ways to stay away from trouble! Schedule some morning time at the college gym, for example, or team up with your roommate by making plans for a specified time. This way you can keep quiet when you have to study and party hard when you both feel like it! Make sure to go to bed at the right time and remember that sleeping is important even when you feel energetic.

8. The Lack of Fashion

Maybe not really a bad academic habit, but it still makes a certain impression about you! The talk is about a lack of fashion or a specific fashion a college student may have. Think of your favorite t-shirt and the sweatpants that you just put on and let go. While it is quite convenient, it makes you look stressed out and not so professional. Choose the clothes that make you look stylish and professional, making it clear that you care for your outfit. Once people notice that you care for the way you look, you are no longer "that college student", but a "bright and motivated person"!

9. Spending Too Much Time Online

Not exclusively a college student's bad problem, the time we spend online is more harmful to your life and success when you have to study and get the good grades. We often tell ourselves that "five more minutes" won't make a difference and scroll down to another post on Facebook, Twitter, and Instagram. Yet, it all takes time! Just make your online presence useful for your future major by making your profile look professional and combine your social networks knowledge and skills with the exploration of a subject that you study!

10. Getting Rid of Laziness

Laziness is always a trouble for a college student and basically anyone who tries to reach some progress and grow as a person! Do not waste your time for the meaningless and dull things that just take your time and teach you nothing. Join social clubs, get involved in volunteering, and explore the opportunities that a college life offers! Do not sit locked in your college room, meet people, smile to others, have fun at the party, share your knowledge, experience, and skills, and learn how to make new friends! Do not be lazy because listening to this bad habit is actually stealing your own life!

Take care and stay motivated,

Nerdify reviews team

October 3, 2018

Nerdify reviews team is sure about one thing: studying is, probably, the best experience you could ever have. But you guys, let's be honest – learning is also the most challenging trial to come through. It is not a secret that diligent studying implies overcoming a number of barriers, including emotional ones. Eventually, you feel exhausted and even sick!

Take a helping hand with this tutorial from Nerdify reviews team, which has been written especially for you — the one who cares about own emotional well-being and seeks to preserve health for years to come!

Top-5 Emotional Challenges Facing Students

There's a bunch of emotional challenges that students encounter during their studies. But I've prepared a list of the most common ones for being forewarned is being forearmed.

Depression

Depression is quite a common condition in learners. A recent study suggests that around 30% of college students report being "so depressed that it was difficult to function" at least once during their studies. Evidently, it's high time to sound alarmed, since depression is connected to suicide, the second leading cause of death among people aged 15-34 years.

Fighting depression starts with understanding signs and symptoms:

1.You aren't getting things done at college/work.

2. You retract from doing enjoyable activities.

3. You feel unable to concentrate.

4. You rely on alcohol and sedatives.

5. You feel unhappy, disappointed, and miserable: thoughts like "I'm a failure", "I'm worthless", "My family/friends would be better off without me" become common.

If you have one or more of these symptoms, there's probably a need to learn more about depression and take decisive actions against the condition.

Fortunately, there's a number of ways to treat depression. The common ones are: medication, therapy (e.g., cognitive behavioral, interpersonal, and grief therapy), lifestyle changes: diet, regular physical exercises, and enough sleep can do wonders with your wellbeing!

Anxiety

Anxiety is another problem facing college students, while its rates are truly alarming. According to recent findings,  one in five college students has anxiety, depression, or both.

When in college, we see our life-changing at an astonishing speed! But it's not the only reason for feeling anxious. Research findings indicate that college students spend too much of their time on social media platforms, and become addicted to their mobile phones, which leads to anxiety.

The study of Adams and Kissler (2013) found that 50% of college students woke up at night to answer a text message. The same study discovered an inverse relationship between the amount of sleep and the level of stress.

You're likely to have anxiety if you:

1.Feel overly worried about your past, present, or future.

2. Feel apprehensive.

3. Have a feeling of powerlessness or worthlessness.

4. Have difficulty concentrating or remembering things.

You can learn more about the symptoms of anxiety here. In the meantime, keep in mind that treatment of anxiety is not as difficult as it may seem at first glance, and it includes:

1.Easing up on caffeine. Once you've made a commitment to ease up on caffeine, check the list of foods, since coffee and soda aren't the only things containing this "anxious" ingredient;  

2. Scheduling "worry sessions". It may sound crazy, but you should give time to thinking over things that make you mad.  Spending 30 minutes a day reflecting on the issues that bother you or make you stressed is more productive than feeling anxious all the time;

3. Breathing deep. Deep breathing signals your brain that you are OK. Try simple breathing exercises to boost your well-being;

4. Changing lifestyle. Eating healthy food, doing physical exercises, having enough rest and sleep are the best gifts for your mind and body!    

Eating Disorders

Eating disorders are prevalent and persistent among college students. In fact, it is not surprising because young people seek to be attractive, and may resort to radical methods to look nice. One study suggests that eating disorders "are characterized by behaviors aiming to achieve or maintain slim body shape; great importance is given to thinness as a requisite of self-esteem."

While many students use the notions of thinness and fitness interchangeably, there's nothing attractive about physical and mental exhaustion! 

So, you should consult a physician if you have one or several of these symptoms:

1.Ongoing dieting

2. Eating in secret

3. Self-induced vomiting

4. Eating to the point of discomfort or pain

You can learn more about the symptoms of eating disorders here. Understanding the problem will help you to plan a conversation with the health provider in a way to come up with an effective treatment intervention.

Some interventions that apply to treat eating disorders are as follows: intensive inpatient care,  psychotherapy, family-based treatment, evidence-based treatment.

Of course, these are just some of the treatment interventions that help college students to improve their physical health and emotional wellness by overcoming eating disorders.

Addiction

Students become addicted to quite many things, including drugs and alcohol. Addiction can destroy one's life, so it's high time to sound alarm if your friend has at least one of these symptoms:

1.Slurred speech or impaired coordination

2. Engagement in suspicious behaviors

3. A sudden need for money or financial crisis

4. Built tolerance for alcohol or other substances

5. A sudden change in friends and activities

6. Deterioration of physical appearance

Did you know that addiction has become a problem on campus? Recent findings suggest that 60% of college students have consumed alcohol in the past month, 21.3% of people ages 18 to 25 consumed illicit drugs, and 3.8% young people used psychotherapeutic drugs for non-medical purposes.

Fortunately, there are many places where a college student can find help when encountering the problem of addiction. First of all, consider consulting the following addiction resources:

Body Dysmorphic Disorder

Everyone wants their body look nice and attractive, but an intrusive preoccupation with defects (often imagined) in one's appearance is a sign of body dysmorphic disorder (BDD).

According to recent findings, BDD affects 1.7% to 2.4% of the general population. In young people, BDD is associated with a range of negative consequences, including school dropout.

It is time to consult a healthcare provider if you notice the following signs of BDD:

1.Camouflaging with clothing, makeup, hats, etc.

2. Constant comparison of body parts with others' appearance

3. Avoiding mirrors or, on the contrary, constant checking in the mirror

4. Excessive grooming or exercising

5. Skin picking

Many students need help to overcome BDD. Fortunately, there is a range of treatment options: cognitive-behavioral therapy,  family-based therapy, antidepressant medication.

Also, students with BDD can find help by consulting the following BDD resources:

In this tutorial, Nerdify reviews team tried to present a comprehensive list of mental health disorders, symptoms, and treatment interventions. However, in no way we want this guideline to substitute actual treatment! So, every time you notice one or several warning signs, consulting your physician is the best decision you can take!