How to keep your schedule under control while learning online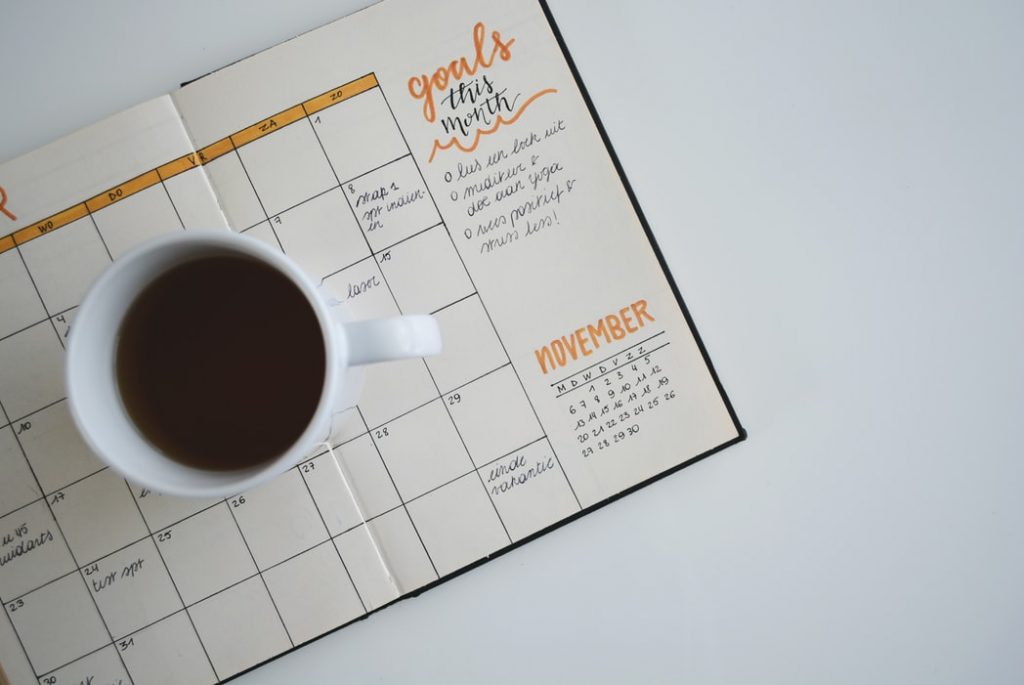 Are you struggling with your time management while learning or working online from home? Here are some tips for maintaining control of your time. First and foremost, get up at your normal time and complete your morning routine, including getting dressed and eating breakfast! Learning and working from home can cause you to focus solely on working. Second, set up a workspace away from your bed/bedroom. Third, at the time you would leave, go to your workspace, and prepare for your day.
1. Have a calendar with time slots, electronic or paper, available to plan your day
2. Plan your day including:
a. Work times
b. Activities at specific times, such as class, study, lunch, and breaks
c. Meals
d. Communication with colleagues, family, and friends
e. End of workday
f. Bedtime!
3. Use a timer or electronic reminders to move to the next item on your list.
4. Begin working.
5. End working.
Set aside time for cooking, cleaning, leaving to exercise (even if just in another room), weekend activities, and shopping if needed. Finally, remember to include due dates for assignments. As you plan for your day above, check the learning management system (LMS) used at your school for assignments, activities, and meetings. Add these to your calendar as well. At the starting time of your class or job, begin working.
For those of you working together on projects, there are several ways to communicate easily. Programs such as Zoom, Skype, and social media applications can reduce the perception of distance. Download these easily from the appropriate website onto the computer and phone. Classmates can set up daily review meetings in Zoom. Learning management systems also have Wiki features for discussions.
This may seem obsessive, but as said above people either focus on one thing for a while or shift from one thing to another in minutes without completing any given task. By creating a schedule to work with and using a timer or alarms, one can complete many tasks and feel accomplished at the end of the day. Using the regular schedule will assist in returning to a normal schedule when the isolation period is over. With a schedule in mind, new habits can be formed to assist in a normal schedule later as well.
Anne Montgomery
Need help with your tasks?
Connect to an expert Personal Nerd!
find nerd
Related posts you may like
September 14, 2018

Hey there, pal! Without a doubt, you have many questions about college life! It reminds you of an ocean full of unknown and probably dangerous species. But no worries, cuz Nerdify is here to help!

Making it through your freshman year at college is like stepping on a way of the warrior – the secret is to learn how to fight for your rights as you learn, analyze, interact, become organized, and start to think strategically. No, the real trick is to have fun no matter what! Here are some helpful tips to guide you through the first year of college life without too much trouble, stress, and anxiety.  

Getting Organized Is the Key!

You have read it right – you have to become organized no matter what as it is one of the most important skills that you should have in order to survive through college. It does not matter what your strong and weak sides are because you have to work on other issues. They are time management, learning all the due dates for important diverse events, keeping track of available funds, and so on. We have it summed up for you, so you know what parts of your life have to be under control:

1. Use organizers, smartphone applications or a big calendar on your wall to keep track of all the critical deadlines. It should not only be about college but about anything that is important in your life. Even birthdays, invitations, financial matters, family gatherings, and scheduled meetings with college professors.

2. Organize each task from the urgent to less urgent and less difficult to most difficult assignments. This allows you to manage your time and physical strength by starting with the most important tasks first while knowing what tasks can be easily completed to help you feel satisfied.

3. Create a budget for yourself, consult with your friends and family, so you can get a word of advice and see how you can feel financially secure.

Become a Jedi of Social Interaction.

You have to work really hard on your personality and place in the society as you enter college. It is not really difficult to become a Jedi of social interaction! No matter how complicated your studies may be, your strong social skills, charisma, warm smile or a friendly pat on the back will always do much more than you can imagine! So, what exactly has to be done?  Okay, just follow this list:

1. Do not miss meetings with your professors. There are special scheduled hours that all professors have, so take advantage of each opportunity and speak of what makes you feel concerned.  

2. Meet your academic adviser. This person is really important for your success and college progress, so getting to know him or her and becoming friends is critical. In case something does not work, remember that you can always ask for another academic adviser.

3. As a part of social interaction, get involved in all things campus: student organizations, clubs, voluntary work, all kinds of fraternities, if you would like. Start a band or become a part of a college sports team. You will not only make new friends and learn some amazing skills but will eventually feel connected and at home.

4. Build a network of friends, meet new people, and do not be afraid of taking mentoring roles to support and help other people.

Building a Bridge Between Studies and Times of Leisure.

One of the worst challenges a college warrior faces is fighting for the girl or a guy he or she has a crush on. No, seriously, it is quite an issue! Just be yourself and speak of your feelings! Unfortunately, romance is not the only problem you will face at college.

Okay, now another challenge is finding a right balance between the studies and times of leisure. Out of all things, find a cozy and calm place where you can study and concentrate. Next, study course syllabus more than twice and see when and what are your due dates, so you can plan that party without damaging your academic progress. College life is always balancing between your social life and study-related events, so the best thing you can do is make it 50/50. You have to study hard, so you can party hard!

As you strive for good grades, do not forget to use all the available study resources on campus. If there are learning labs and tutors, make sure that you use their help even if you think that you do not need it. After all, they have a purpose to be here… and that purpose is YOU! Still, if you do not think that it is an option, try to become a part of study groups, so you and your friends can schedule the same time for studies and leisure. This way you can find some peace and stop feeling like letting someone down!

Battle of Priorities

We are sure that you have heard it all before, but we will say it again that college life, especially the freshman year, is a battle of priorities where important things should come first. Okay, but what is important and how to understand what is really important? Yes, studying is necessary, but unlike most guides, we want to tell you that taking some time for yourself is just as important as academia! If you feel totally stressed, no high grades will be of any good. Even if it is your favorite television show, writing a journal, playing guitar or just riding a bicycle through the park, it is just as important!

All you have to do is to take full responsibility for what you choose and work on your priorities. Try to take one step at a time as you study and make a list of what tasks are closer to the deadline, what college assignments should be done as soon as possible to stop making your life a mess. Yet, at the same time, always ask yourself about what will make you feel best of all even in the middle of a Jedi battle with another complex subject!  

Just remember that even if doing things the last minute before the lessons start could work in high school, it may not work in college. So, it is much safer to stick to deadlines and prioritize your time and resources. In other words, do not take shortcuts and do not cut corners as you progress. Do not cheat because it is your life. It surely deserves the best you can give!

When Things Just Won't Work…

Trust us, we all have been in situations when things just won't work and you feel like it is the end of the world! It is perfectly normal because you are in a different environment, you are away from home, so there come anxiety and homesickness among other things. Even if you always wanted to get away from home, college is not always what you have expected. There are three basic rules that you should remember to help you overcome sadness, stress, anxiety, and this feeling when you just do not want to be in college any longer.

1. Stay on campus as much as you can, so the more time you spend on campus, the more you will feel at home and as a part of a community. Join social and cultural events that take place to get your mind away. Try to be creative, have fun, joke around, and inspire people because, trust us, they feel bad too even if they do not show it!

2. Be ready to feel stressed, tired, and overwhelmed. Just know that you are not the only one feeling this way. Do not feel pressured to make hasty decisions about chosen career or a major. Give it some time, try to learn and see what it is. It is not a race that you have to win. Hence, see what you really enjoy, but take time to learn it inside out, talk to professors and other students before you make a turn.

3. Seek professional help when and IF you feel that you need it. It is perfectly normal. The colleges have counseling and health centers, so if you are not feeling well, you should let professionals know. Depression, bullying, feeling isolated, harassment or any conflicts should be reported, as you do not have to face these challenges alone.

We hope that all these little tricks and tips will help you to get through the freshman year at college. Be determined, take advantage of your social network of friends, voluntary work, and the special skills you definitely have. Have fun as you learn, give some time for yourself and remember that it is your life that you can control. You are already a warrior who is winning the first battle because you have what it takes!

Do not forget that you are studying to help yourself feel good about life and do not let any stress ruin it, just contact Nerdify for help any time.

January 28, 2018

Today we've decided to do something we've never done before. We are introducing a new type of content on the Nerdify blog – Nerdify Reviews. From now on, we are going to be reviewing books/podcasts/movies/ etc., that we think can add value to students and are interesting even to the general public. Nerdify Reviews is going to appear on our blog every month, so stay tuned, lot's of great content coming your way!

For our first "Nerdify Reviews" we've chosen a brilliant book "The 7 Habits of Highly Effective People" by Stephen Covey. We think it's a must-read for pretty much anyone, it's in our company's library and it has amazing reader-reviews online.

So, without further due, let's jump into it. The book describes 7 habits that are aimed to boost your productivity and general motivation to achieve your life goals. These are the habits:

* Be Proactive

Imagine 2 circles in your life – one is the circle of concern (that's the stuff you are worried about) and within that circle there's a circle of influence (that's the stuff you can actually have certain control over – your relationships, work, health, etc).  Being proactive means only be concerned about things YOU HAVE CAN INFLUENCE. That will save you a lot of time you waste worrying about stuff you have zero control over (no point about worrying about whether the Earth will be struck by an asteroid – there's pretty much nothing you can do about it, mate). So habit number 1 – be proactive.

* Being With An End In Mind

Imagine you are at a funeral. At your funeral (ok, it's not real, just bare with us for a sec). Ask yourself the following question: "What do I have to say about myself". Do you want people to say that you were an amazing friend? A great boss? A business leader? But are you actually DOING things that will make people say all of that about you?

In the modern world, it's really easy to get distracted. Always have the end in mind and CONSTANTLY do a reality check whether you are doing things that get you closer to the end goal?

Learn to say no. This is actually one of the Steve Job's superpowers – saying no to things that do not get your closer to your goal.

* Put First Things First

This is actually about setting the priorities right. Look, life is FULL of events and opportunities. Unfortunately, you won't be able to do everything you want. There are only 24 hours in 1 day. And your workday may be full of interruptions. So, learning how to set up your priorities right will go a long way. Answer to yourself "what is the most IMPORTANT thing I have to do right now and how URGENT I have to do that". Based on that – construct your to-do-list.

* Think Win-Win

This is a very powerful mentality, especially if you want to work in business and be an entrepreneur. Our world is not a zero-sum game (meaning that in order for you to win, someone has to lose). By far in most cases, you can always find a win-win scenario. Usually, people who think that, have integrity, maturity and abundance mentality (meaning they actually believe there's enough for everybody).

* Seek First To Understand, Then To Be Understood

This is the holy grail of any negotiations. You have the following "levels of listening" – ignoring, pretending to listen, selective listening and active. Now, you might think that active listening is the maximum level of attention you can dedicate to your counterpart. But it's not true. The highest level of listening is Empathic listening. This is when you are trying to understand both the content and feelings of your counterpart. It's as if you are putting yourself in "their shoes". By doing so you can actually understand what the other person truly feels are really wants. It's absolutely vital if you want to be a successful negotiator.

* Synergize

This actually is a natural extension of habit 4 and habit 4. When working in a team being able to negotiate and find win-win scenarios is incredibly important. But, being able to unite a few people who have skill sets in different areas – that's what makes up a very strong team. Always look for opportunities where you can achieve an additional value out of the partnership due to synergize.

* Sharpen The Saw

Imagine a guy cutting a tree with a saw. He is exhausted, he has been working for hours. You approach him and say "Hey, why don't you take a break and sharpen that saw – you'll cut the tree down much sooner this way" and the person replies "I don't have time for this, I have to cut down this tree". See the problem here?

There's no point taking on a task if you haven't prepared for it! Make sure you spend an adequate amount of time PREPARING and planning how you are actually going to execute your task.

---

This is it, that's our first review, we hope you liked it. If you want us to review some other books, please let us know in the comment section below 🙂 Nerdify is always trying to provide useful content. Check out our previous story about Secrets behind great success.

March 30, 2020

No matter what topic we may encounter as we compose Nerdify reviews, it always deals with portable electronic devices and the different applications that a person can download to check on the latest news or to quickly calculate something. These handy mobile apps became a part of our daily routine, which is not surprising if one considers an amount of available information and the tasks that have to be done on time. In order to make your lives easier, we have compiled a list of 7 apps that you should definitely check out in 2020:

Wunderlist

If you want to bring some order to your daily tasks and the college assignments, nothing beats this handy organizer. It allows you to manage your responsibilities in a convenient way. Regardless of what may be in your plans, it helps with anything from the usual shopping preferences, prices, course deadlines list, subtasks, notes, notifications, and synchronization across every device in your list. The app has a pleasing interface, so it is easy to learn how it works even if you find it challenging to install something new.

Audio Memos

You might have heard about the Notes application that allows you to record the lectures or even the sports events in audio format. This time Nerdify reviews came across an amazingly professional audio recorder application. Meeting the highest standards, it has lots of powerful options that most journalists use in their work. You can easily capture personal interviews, university lectures, local community meetings or simply record yourself when you need to make your class presentation perfect. While this app is aimed at advanced users, it is rather simple and the interface is much better than it is the case with some less powerful apps. The best part about Audio Memos is that it provides special color codes for each recording, so you can get it sorted by every date or subject.

Headspace

If you need to relax and get rid of anxiety, this app offers several meditation courses that you can join. Even if you have tried to get some peace and it did not work before, give it a try. A reason why it works is that you have clear and short instructions, so one can feel the benefits anywhere without too much trouble. For example, there is a course that helps you to sleep better or the one that boosts your productivity. While taking not more than ten minutes during the break or when you feel comfortable, it helps to have a brighter outlook and takes away the stress.

Alarmy

While this entry may sound funny and unnecessary, Nerdify reviews geeks found out that 2 out of 3 students snooze late without an alarm clock that either fails or is not set right. This little application is incredibly loud and has several ringtones that will pick you up in the morning because you won't be able to sleep without shutting this awful thing off! The best part about Alarmy is that you can choose among several alarms, so it can remind you about an important test (or a great movie) during the daytime as well. At the same time, there is an option where you have to shake the phone well for the alarm to stop because some of us may glide the finger to stop it and continue with the sweet dreams land. Trust us, Alarmy will wake you up!

Trivia Crack

If we would only tell about planning and exam alert apps at Nerdify reviews, things would quickly get boring. What about some fun? Welcome the Trivia Crack mobile game! It is an application that lets you compete with people from all over the world. You can train your brain, communicate with your roommates and show your special skills. The game can be stopped at any time, so it fits just right for the college students during the break when your time is short.

Dragon Dictation

A great free application that lets you translate speech to text. As a speech recognition solution, it supports all existing mobile platforms and does not take much memory. If your lecture recording is unclear or you need to understand the text from an online video, it will help you out. If English is not your first language and you need assistance, download this free app and learn!

Brainscape

It is the mobile education environment where the flashcards on diverse subjects help you memorize things, save time, and learn. You can create your own cards from the textbooks or download different subjects and tests created by other people from the vast online library. Nerdify reviews have often used this wonderful application to find inspiration and discover unusual presentations that help save time and learn from the subject's key facts.